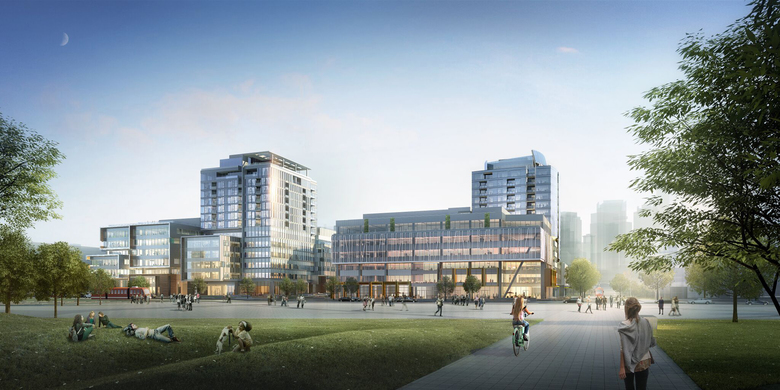 Google's massive expansion into South Lake Union has been quickly approved, paving the way for Seattle's newest marquee tech campus to begin construction soon.
The city's design review board this week unanimously signed off on the last chunk of the project just south of the shores of Lake Union between Valley and Mercer streets. The approval came with no major changes, aside from some design tweaks, since the project was unveiled in March. The developers recently released new renderings depicting people riding bicycles, petting dogs and frolicking in the grass near the campus.
The project will include several buildings up to 14 stories tall totaling 621,000 square feet, along with 151 new apartments, ground-floor retail space and 812 parking spaces. The current site is a parking lot.
Google plans to move employees from its current office in Fremont once the new South Lake Union campus opens. It also has a large office complex in Kirkland, for a total of 1,900 employees in the state.
The new buildings could fit thousands of workers within earshot of Amazon.com's growing constellation of offices in the neighborhood, which is also home to a large Facebook outpost.
Paul Allen's Vulcan Real Estate, which is developing the project, said it expects to begin construction in the first quarter of 2017 and open the offices in early 2019, as it had previously planned.
The overall project was proposed in multiple "blocks" — the design review board had approved the previous stages over the past two months before greenlighting the final section on Wednesday night.
Mike Rosenberg
Seattle Times