In our fast-paced market with low inventory, it is inevitable that two buyers will see the same property, like the same property, and decide to make an offer to purchase at the same time, oftentimes within days – or hours – of a property coming on the market. This scenario is called a "multiple offer" situation.
Typically a buyer will quickly learn if his or her offer will be competing against others. If you are in this situation, there are several things you can do or include in your offer to make it more appealing to the seller. You might be surprised to learn the best offer is not always the highest offer!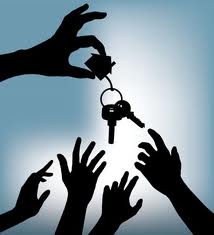 Below are seven tips for buyers hoping to win a multiple offer situation:
1)     Money talks – for many sellers it is all about the money. It is your agent's responsibility to educate you quickly on the market and where market values are so you can feel good about making a strong offer. In many cases the offer will be above "full price" (the price the property is listed at). Be smart about how you make that offer and make sure your offer is as "clean" as possible. Typically home purchase agreements can include "contingencies" (provisions in the contract which specify the contract would be voided when certain events do or do not occur) which may include: financing (if the buyer cannot obtain a loan), inspection (if the buyer does not feel he or she can handle the inspection results such as when major repairs are needed), or even the sale of the buyer's current home. Limit as many conditions as you possibly can so your offer is cleaner than the competition's.
2)     Approval letter from lender – take the time to get pre-approved before you make an offer so the seller will be more comfortable in your ability to obtain a loan.
3)     Pre-inspection – find out if you can do a pre-inspection (an inspection which occurs before an offer is made). This will enable you make an offer that does not have an inspection contingency. However, this can be a gamble as the inspection will cost money and this is not a guarantee that your offer will be accepted.
4)     Money down – when competing against other offers, consider increasing your down payment. This settles most seller concerns about your financial viability.
5)     Earnest money – putting as much of your down payment into your earnest money deposit makes a very strong impression. Sellers like high earnest money amounts because they feel that this ensures you won't break the contract because you will be worried about losing this money.
6)     Reports/disclosure – have your agent find out everything they can about the property and get copies of all reports and the seller disclosure up front. Approve these reports and simplify the offer.
7)     Personal letter – if you really want the home, write the seller a letter indicating why their particular home is a good fit for your needs. You would be surprised at how many multiple offer situations are decided based on the letters that buyers have presented to sellers.
A combination of the above seven ideas can give you the edge you need when competing in a multiple offer situation. If you have been thinking it is time to make a move, give me a call at 425-260-0715 or send an email to [email protected]. Together we can strategize how you can make a strong offer and secure yourself in the home you have been waiting for.