"How long is it going to take for my house to sell?"
This is a question I get asked almost every time I list a property for sale. And the fact of the matter is, "it depends". It depends on how much inventory is on the market and how much competition the property faces. It depends on how the property is priced in relation to the market. It depends on the curb appeal of the property. It depends on the type of buyers that are in the market and what they are looking for.
Any real estate agent can go into the MLS and look up how long properties are generally taking to sell – also known as "days on market". Days on market can be pulled for individual properties, or averages can be looked at for price points, price per square foot, types of properties, etc.
The higher the demand for properties, generally the lower the days on market.
Let's take a look at the Mercer Island real estate market in terms of days on market. I have graphed the days on market numbers for our entire MLS in area 510 (Mercer Island real estate) from September of 2010 to present. I have also added a trend line so you can see where our market currently is as opposed to the trend.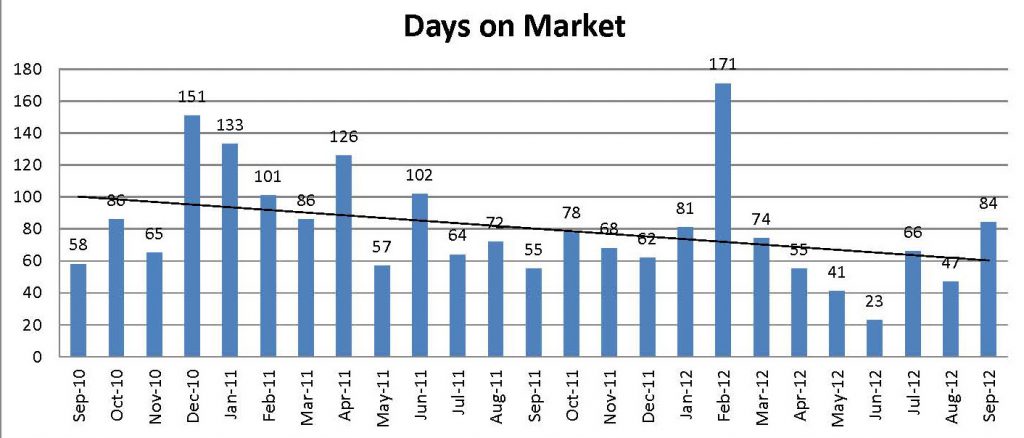 Since late winter/early spring of 2012, the days on market has fallen significantly from a high of 171 in February of 2011 to 23 in June of 2012. The number of days on market may fall even further as properties which have been on the market for a long time are sold and are replaced with newer listings.
What does this mean for Buyers:
Buyers in our area must be prepared to act quickly. Be sure to be preapproved and have all your paperwork in order. Get advice from your agent regarding market value, and be prepared to compete for properties, especially if additional inventory is not entering the market.
What does this mean for Sellers:
Homes that have been on the market for a long time are finally starting to move if they are priced right. In addition, with the days on market averages being low overall, it doesn't take very long to determine if a seller's home is indeed priced at market. If your home is on the market, be sure to get a weekly report on how many showings you have and work with your agent to adjust your price if traffic is low.
Remember, this graph represents an overview of the entire market. If you are in the market to buy or sell, contact a real estate agent such as myself to learn more about what the days on market looks like for your particular price point or type or property.