Property analytics provider CoreLogic released its annual mortgage fraud trend report this month, showing fraudulent activity was up marginally in the second quarter of this year compared to the same period last year.
The report shows that 12,718 applications (0.7 percent) of U.S. mortgage applications displayed fraud in the second quarter of 2016.
During the second quarter of last year, the number of fraudulent applications was slightly higher, at 12,814 — but that represented a smaller 0.67 percent of the market.
CoreLogic's Mortgage Application Fraud Risk Index (FRI) is based on residential mortgage loan applications. The index analyzes counterfeit activity across identity, income, occupancy, property, transaction and undisclosed real estate debt.
Nationally, the FRI jumped 3.9 percentage points year-over-year in the second quarter, continuing the steady increase seen since the third quarter of 2010. Given loosening lending standards compared to the period immediately following the recession, the jump was anticipated, the report says.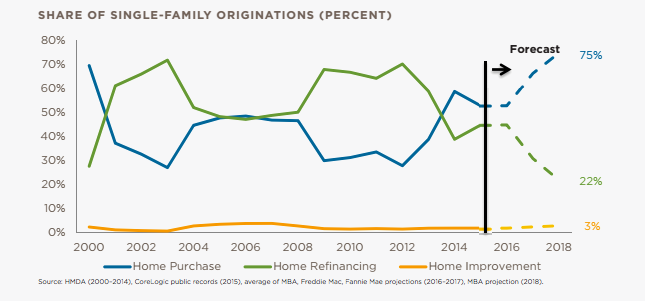 Given the increase in purchase loans as opposed to home refinancing, fraud is now riskier due to overall transactions. High-LTV purchase loans are easier to manipulate and present a higher profit opportunity, the report says.
Mortgage fraud types and trends
Year-over-year, income fraud risk jumped 12.5 percentage points across the country. Income fraud is classified by misrepresentation of existence, continuance, source or amount of income used to qualify for a mortgage.
Transaction fraud, up 3.2 percentage points annually, is when the nature of transaction is altered. Inaccurate down payments and undisclosed agreements fall under this category of deceit.
Occupancy fraud risk increased 2.9 percentage points year-over-year. Mortgage applicants performing this type of fraud lie about a home's intended use, categorized as primary residence, second home or investment property.
Undisclosed real estate fraud, or intentionally failing to disclose real estate debt, is down 3.4 percentage points year-over-year.
Identity fraud is down 10.8 percentage points annually. Identity fraud is when an applicant uses a stolen or false identity to obtain a mortgage.
Meanwhile, property fraud risk — intentionally falsifying property details — dropped 14.2 percentage points since the second quarter of 2015.
Where is mortgage fraud rising?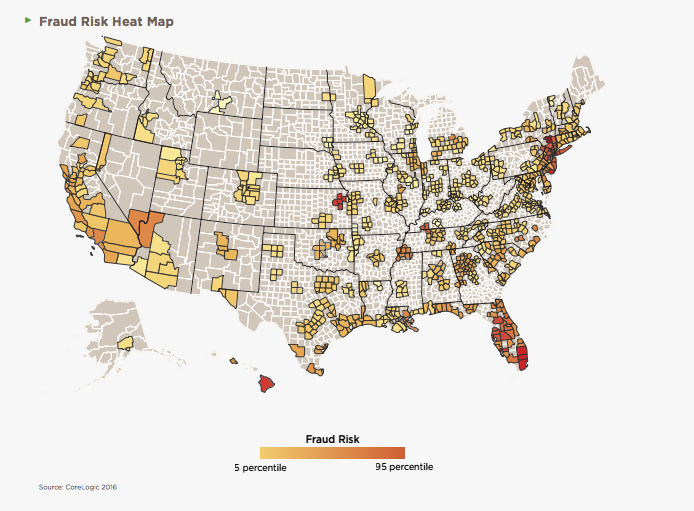 While Florida remains the riskiest state for mortgage application fraud, the Sunshine State posted the biggest reported annual decline in risk. Miami-Fort Lauderdale-West Palm Beach, where the risk index is 278, showed an 18.1 percentage point year-over-year drop in fraud risk — but it still ranks as the riskiest metro in the U.S.
Mortgage fraud is most prevalent in Florida, but rising in California
New York is within the top five states for income, property and occupancy fraud risk. New York is no. 2 riskiest in application fraud risk and showed an increase of 12 percentage points annually. The New York City metro risk index grew to 210, which is up 10.4 percentage points year-over-year as the fourth riskiest metro.
Washington D.C. is in the top five states for income, occupancy and undisclosed real estate debt application fraud, the report shows. Application fraud risk in D.C. increased 3 percentage points year-over-year.
Application fraud in California, most often related to undisclosed real estate debt and transaction deception, is up 5 percentage points year-over-year.
In Los Angeles-Long Beach-Anaheim, CoreLogic's risk index jumped 9.7 percentage points, to 164, ranking no. 9 in riskiest metros. In San Francisco, the application fraud risk index is up 9.3 percentage points to 138, making it the 20th-riskiest metro in the nation on the list.
Illinois' application fraud risk dropped 7.8 percentage points since last year, officially moving out of the top 10 states. While Texas is not a high-ranking state for mortgage scams, the riskiest mortgage fraud is related to false identities or identity theft, the report shows.
Jennifer Riner
Inman News